A dedication ceremony for the Gordy Nielsen Memorial Tract took place on May 16th, 2015. The Fergus Falls Fish and Game Club, of which Nielsen was a life-time member, purchased the 160- acre tract of land adjacent to the Rothsay State Wildlife Management Area and donated it to the Minnesota State Department of Natural Resources in Nielsen's name.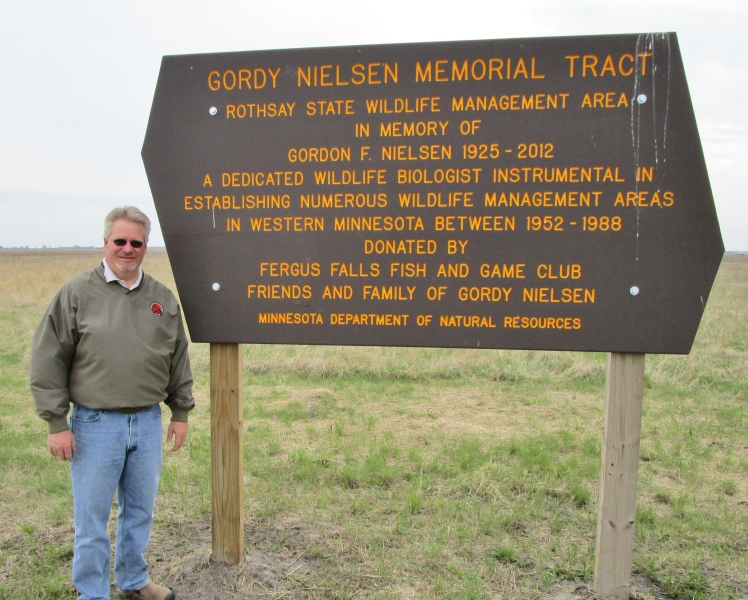 Above: FFFGC President Mick Siems stands in front of the new sign marking the 160-acre donation.
Mr. Nielsen was Area Wildlife Manager in western Minnesota from 1955 until his retirement in 1988. During his years with the DNR, Nielson acquired, developed and managed many state wildlife management areas and other state lands His most cherished projects included the Rothsay and Orwell State Wildlife Management Areas as well as working with the Fergus Falls Fish and Game Club on the Canada goose restoration project.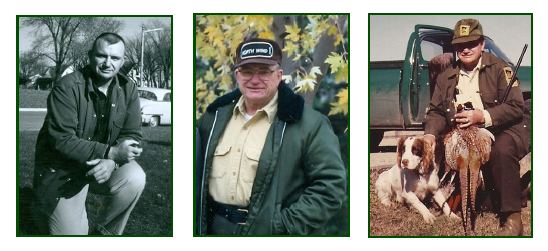 Above: Gordy Nielsen throughout the years.
An estimated 70 people attended the dedication ceremony, which took place at Ole and Lena's Pizza in Rothsay.
The 160 acres of restored native prairie in the Gordy Nielsen Memorial Tract bring the Rothsay WMA to over 4,000 acres
. During the ceremony Don Schultz described the ecological significance of the Rothsay WMA to Prairie Chickens, the Rothsay MN icon. He also described the cold freshwater springs and creek with trout located there, and a pair of Bald Eagles with a nest to the east. Dean Nielsen provided Gordy's biography including his life growing up in Marshall MN, playing football in high school and college, and military service as a Marine in WWII and Army in Korean Conflict.
Above: Gordy's son Dean speaks at the dedication ceremony.


To visit the Rothsay WMA, please see the directions below. Feel free to contact the FFFGC at
info@fffgcmn.org
with any questions about this or any other FFFGC properties.