On Sept. 12, 2015, two new Waterfowl Production Areas permanently conserving 530 acres of wildlife habitat were officially dedicated near Herman, MN. These WPAs honor Minnesota conservation legends Art Hawkins and Chuck Vukonich, respectively. Many area organizations, including the
Otter Tail County Chapter of Pheasants Forever
, the USFWS, and the FF Fish and Game Club worked together to dedicate the properties and conserve them for future generations.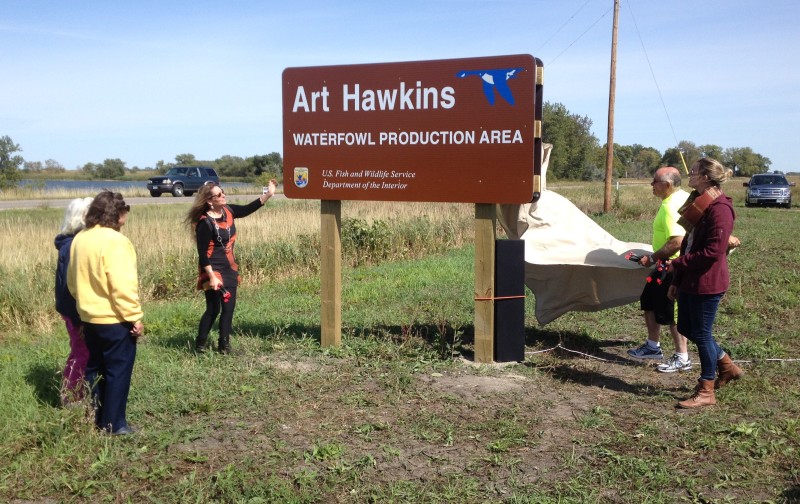 Above: Unveiling of the Art Hawkins WPA sign. The Hawkins WPA conserves 370 acres of habitat.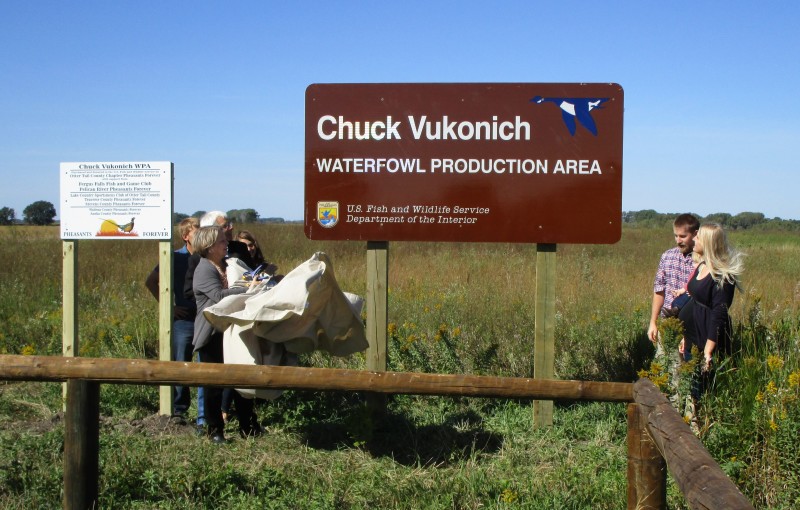 Above: Unveiling of the Vukonich WPA sign. The Vukonich WPA conserves 160 acres.
According to Mick Siems, FFFGC President, "The FF Fish & Game Club entered into a partnership with the USFWS to restore three wetland basins totaling four acres on the Art Hawkins WPA." Three applications to enhance the seed mixture of grasslands and restore the wetlands were submitted and approved through the Conservation Partners Legacy Grant Program. There were sufficient funds remaining from the last grant to complete more habitat work, so the leftover money is being used to restore five wetlands on the Vukonich WPA. The FF Fish & Game Club also donated funds to Pheasants Forever towards the purchase of the Vukonich WPA.
Above: Sing at the Vukonich WPA
Tony Rondeau, retired US FWS biologist and active member of the Otter Tail County Chapter of Pheasants Forever
and
of the FFFGC, said it best:
"It is indeed an honor for us to dedicate these properties in the name of two devoted and staunch conservationists. Art Hawkins was a pioneer in waterfowl management and a legend within the migratory bird community. Additionally, one would be hard pressed to find anyone more committed to the protection and management of habitat than Chuck Vukonich. I consider both as mentors and an inspiration in our efforts toward habitat improvement and conservation awareness."
Above: Temporary monument at the Art Hawkins WPA
For more information about the WPAs, click
here
to visit the Otter Tail County Chapter of Pheasants Forever website, or email us for more information.