We are pleased to share this guest post from
Matt Davis
, MN/ND Regional Trail Coordinator for the
North Country Trail Association
!
The North Country National Scenic Trail (NCT) is coming soon to Fergus Falls and will pass right through the Fergus Falls Fish & Game Club's One Mile Prairie mostly using the existing trail system. Extending 4,600 miles from the Missouri River in North Dakota to Lake Champlain in New York, the NCT is the longest of the eleven National Scenic Trails. You probably have heard of two of the others - the Appalachian and Pacific Crest Trails have recently been the subjects of major Hollywood movies.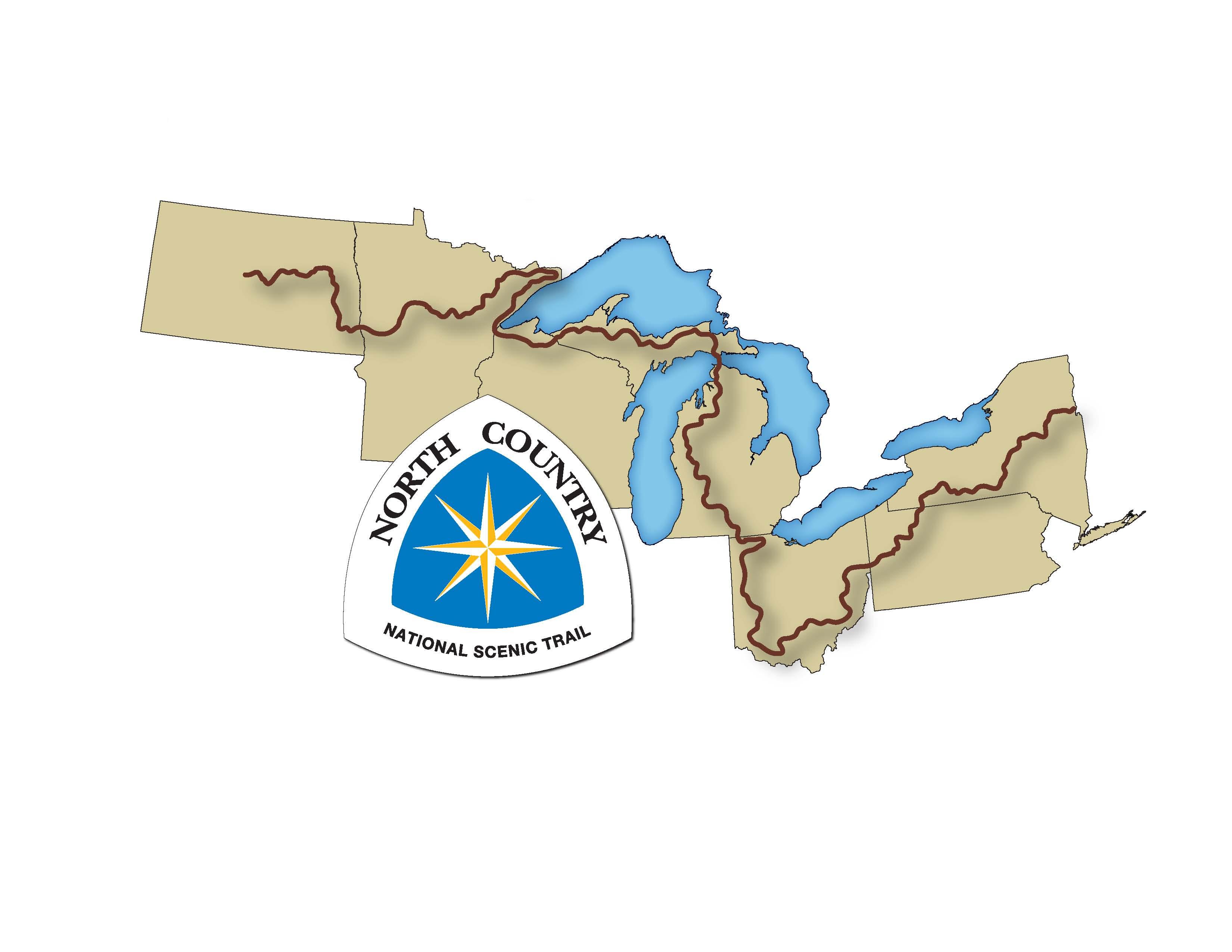 Above: North Country Trail Map.
The NCT was designated by Congress in 1980 and since that time, volunteers with the non-profit North Country Trail Association (NCTA) and our partners have completed approximately 2,700 miles. Many of the remaining 1,900 miles of trail to be built will require obtaining permission from private landowners. Of the 875 miles of the NCT in Minnesota, approximately 580 are currently completed. The nearest completed piece of NCT to Fergus Falls lies within Maplewood State Park.
The NCT is primarily a simple footpath through the woods consisting of a 18-24" native soil (smoothened & leveled) trail tread within a 4'x8' clearing. Or, in grassy area it's a 4' wide mowed corridor. Across the One Mile Prairie property, we anticipate building short new trail connections in the northwest and southwest corners but utilizing the existing fabulous trail system.
The NCT hasn't existed in Fergus Falls up until this point because the original route plan called for the NCT to utilize abandoned RR grades from Erhard south to Fergus and then west to Breckenridge. Unfortunately, those RR grades were not secured leaving us with a more difficult task in finding a route from Maplewood State Park to the Red River at Abercrombie, ND. Recently, the National Park Service completed a route plan for this section that includes a 9-mile segment through Fergus Falls. The NCTA is currently working on obtaining permission from the City of Fergus Falls for this segment where it crosses City-owned lands.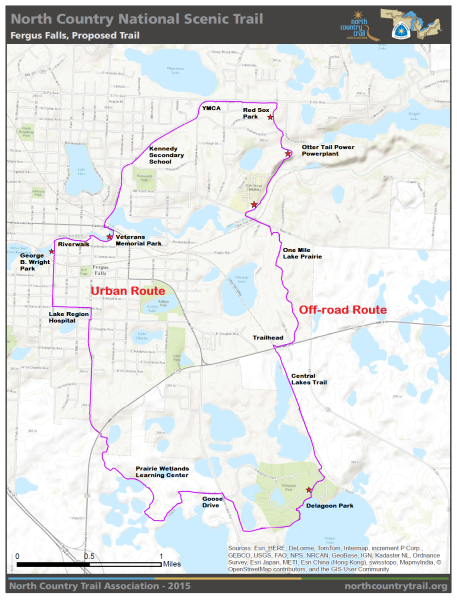 Above: Planned NCT route through Fergus Falls.
The NCTA looks forward to working with the Fish & Game Club to bring more hikers to the Prairie. More information on the NCT can be found at
northcountrytrail.org/Minn
or at Facebook at
www.facebook.com/NCTinMN
.